Follow us on Facebook or Twitter:
NEVADA MINING
Carson Nugget Casino Collection Sold
The 'Million Dollar Nugget Collection', originally developed by McKibbon and Ghioroso was expanded by Graves when he bought the Carson Nugget Casino in 1954. The collection languished in a small display box, seldom cleaned or nurtured, until private sale November 2010.
Nevada Mining That IS
Nevada Bureau of Mines and Geology
775.784.6991 x1333
nbmgsales@unr.edu
Pop Quiz: How many millions$ in Au did Switzerland buy from Nevada in 2004?
A: $658 million
And where did it go from there?
Yes, Nv is world's third largest Au producer.
Some thought the status of Nv as a producer was on the wane. Does Cortez strike change your opinion?
Nevada Mining That WAS:
Nevada Historic Districts: Carson City, Reno, Virginia City
Greatest Gold Camp in the World - Goldfied, Nevada, Sept. 30th, 1909
Advertising by Prostitutes in the 19th Century American West Mining Camp
The prostitutes in the US didn't use personal calling cards (as far as I have been able to determine) for three main reasons:
- The business establishment provided the advertising.
- The women didn't have the means to advertise (and didn't want to threaten the business)
- Advertising would have taken the form of what was available in the day (wooden signs and brass or aluminum tokens), not other materials or venues
Individual prostitutes on the lowest rung (street) didn't have the means to advertise personally; most of them probably wanted out of the life anyway.
The lower-middle rung prostitutes worked in cribs. The businessman who owned the crib would sometimes advertise with either a wood sign above the cribs or brass and aluminum tokens
Fantasy Pieces
The majority of 'brother token' that you'll see are actually fantasy pieces, modern productions used to ply the tourist trade:
Some were produced or promoted by Fred Mazzulla, others are of differing origin.
That said, the Agnella tokens (Studio, 59, Rue Du Chateau; The Studio Au Premier at 2, Rue De Londres) I believe are legitimate.
The token from Wyoming may very well have served as a service marker. Not sure, would be good to know more about this one.
The Studio in Reno is an obvious more recent token. I have never heard of the Studio. Prostitution in Reno was never widespread since Washoe County never legalized such. Although I do have picture of cribs (The Stockade) from the 1930s in Reno, I don't imagine a strong likelihood someone would publicize their den via token and face likely prosecution (Army clamped down on the brothel in 1942, Washoe County clamped down (The Cottage, 1948) made illegal in 1951) when one could legally serve sex just 13 miles away across the county line.
There are two tokens I listed here on my site that were known to be used by Bars that also provided sexual services.
This page:
http://www.thecoinminer.com/Inventory/inventory_tokens.htm
Under Header Bawdy House/Brothel.
The Den, in Goldfield Nv., had a well documented crib (It would be more accurate to list my token under 'crib', but the term bawdy house (associated with a bar or dancehall) or brothel is more well known). The Den crib actually had wooden signs that could be moved around, which advertised which lady was in each crib. Photos exist of that historic situation; the structure still stands, albeit modified. The crib is across the street from a nice hotel. No doubt the woman hoped some fine patron would sponsor a bath and room for the night after he finished his business. There are three other known Goldfield Tokens that were redeemable, or rebatable, for sexual services.
Goldfield had its share of Good Time Places
Here is a token from the Den. This one is real, not a reproduction, rare and valuable: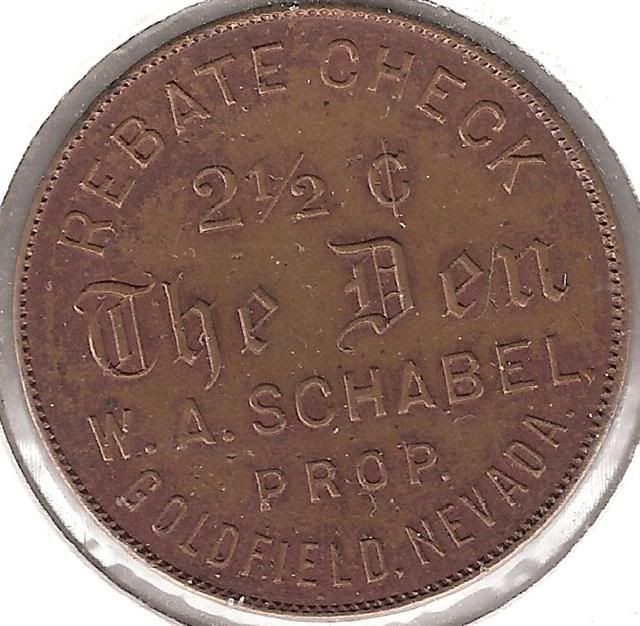 So, even if the john didn't provide the token to the prostitute as direct payment, there is certainly a chain of payment present when the customer uses the proprietor advertising token for a rebate on his bill. Remember, all folks involved in the transaction still needed to conduct their business in relative obscurity lest they feel the heat of either the police, competition or the more 'upstanding' members of the community (who would often 'allow' the red-light district so long as it was out of sight and out of mind - therefore, on the fringe of town with little advertising of such).
I am not near as familiar with the arrangement in McGill/Smelterville, Nv. Previously published work (self published, likely) indicates Smelterville was the red light district ('fringe town') for the more upstanding nearby community of McGill (company town, rail hub). I have never seen any notice of a crib or other free standing structure and imagine that sexual services were simply rendered in a backroom of the bar. The town has not existed for many decades. The token is scarce.
The other pictures I have seen of cribs in Nv showed the structures as simple and rustic. Basically, just a series of stalls big enough for a bed. You would not know what the picture represents unless you understand the structures and context.
The next level up for a prostitute was working in a brothel. This was a big step up, as the brothel afforded the woman with more comfort, provided for her daily needs (while employed), protection, and some level of society status.
The very highest level of prostitute was a self employed woman who kept her own apartment or house. More of a courtesan, she chose her company and set prices accordingly. These women were very rare and needed to possess some decent combination of existing money, business savvy, personality, intelligence, good looks and feminine charm.
Very few women held that status.
Virginia City and Julia C. Bulette
The most famous of the Comstock prostitutes was Julia C. Bulette.
This Noir Picture Card features the legendary Virginia City, Nevada Lady (of the Night) and Patroness Extraordinaire, Julia Bulette. The front side pictures Julie in repose, stricken after the robbery and murder at the hand of John Millain. The back of the card tells her story – inexorably linked with the development of the most famous western Mining Camp of them all – Virginia City. Besides her legacy, Ms. Bulette's gratitude and largesse established the Julia C. Bulette Red Light Museum in Virginia City. Be sure to visit next trip up there for the Camel Races.
The card is subtitle Sazarac. The Sazarac was a famous VC bar established by Tom Peasley and named after an alcoholic drink invented by Ms. Julia Bulette. The Sazarac hosted a famous lying competition – anybody's guess the whoppers told at high mine time.
Of course, Much of what has been written about her was simply hype and tripe designed to sell copy. Though she was favored and somewhat successful during her best years, she was not a top-level courtesan and indeed started out in a crib which she turned into a modest house.
I believe she may have actually had some level of business advertising (but do not have a reference or example). I would suggest you actually call the Red Light Museum in Virginia City and ask if they have any examples of her advertisements. She may have also had a dance card. These dance cards actually had the woman's name written on the top of the card and a list of men (who often paid) to dance with her.
Beyond any specific examples of a calling card (or dance card), you also might scan the Territorial Enterprise for reference. Imagine that both Dan DeQuille and Mark Twain, both staff reporters who later gained fame, would've remarked fairly extensively regarding the 'social scene' at Virginia City during Comstock Bonanza.
In fact, a presentation regarding the representations of prostitution by DeQuille and Twain in Virginia City would prove a fascinating topic for research and no doubt a very interesting read.
Use of Existing Materials
Although use of business cards in Victorian-era Europe was common, as in the eastern seaboard of the US, use in the western US not nearly as common. There were not a great deal of lithograph, etching or printing presses in the western US at the time. The existing presses had a great demand from the newspaper business. Running a small set of 200 business cards would have been an expensive outlay for marketing.
The coin stamp press was actually almost as common as a printing press, with less industrial demand.
Whereas the screw press required four or five men, the recently invented stamp press was much less labor intensive.
History of Coin Presses
http://www.coinbooks.org/esylum_v07n40a03.html
After the invention of the stamp press private money ('Good For' tokenage) exploded in proliferation. Civil War tokens and sutler tokens in the 1860s and 1870s found large demand. Also, the significant lack of coinage in the 1860s, especially in the west (lack of coinage well into the 1880s) created the demand for Store Card advertising as an expansion of 'Good For' tokenage.
So, we already have a series of stamp presses producing aluminum and brass tokens, 'cards', mining scrip, pit checks, and sutler tokens.
Therefore, a logical extension that a proprietor of a bar, also providing female service, would have made a token for such exchange. Perhaps even one specific to the sex trade such that he could keep straight the demand for drinks vs. the demand for sexual services.
Here is an interesting article on the subject:
http://www.theatlantic.com/business/archive/2014/02/good-for-one-screw-a-history-of-brothel-tokens/283915/
Austin, Nevada, circa 1908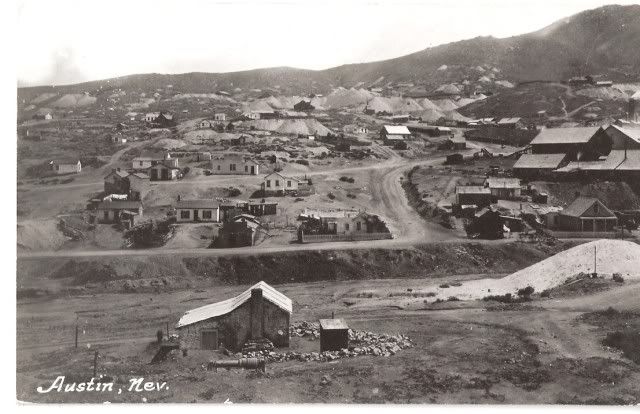 White Pine County
Hamilton was the original county seat of White Pine County. However, her glory began to fade into past years and by 1879 she had become almost a ghost town. The new girl on the block was Cherry Creek. Of course Cherry Creek lost her momo and was replaced, ultimately, by Ely – the new county seat in 1887.
At one time Hamilton held captive over 8000 willing souls. Now, she is a complete ghost; abandoned by all and remembered by few. Most traces of Hamilton from the early boom years 1868-1887 have either returned to dust or been eaten alive by newer mines utilizing better extraction technology. Cherry Creek, too, almost faded entirely to ghostly status but still has a couple dozen denizens remaining.
NEVADA MINES
The Antimony King Mine in Bernice Canyon, Nevada, was discovered in 1907 in quartz host in association with gold, silver, and tungsten. The ore was fine
but shallow, production was not fully ramped until 1957, when it produced over 1100 tons. However, the ore played out the next year and the mine was abandoned.
Bullfrog District
Shorty Harris helped locate the Bullfrog strike.
Rhyolite
Old mining town postcards are fascinating. Photo techniques, real post cards, boomed with the Idaho and Nevada boomtowns in the glory years of the 1880s-1910s.
As one example, Rhyolite sure is an interesting place, even today. My favorite piece of mining ephemera is from Rhyolite, actually, a sweepstakes entry.
The drive down Titus canyon from Rhyolite into Death Valley proves one of my favorite back routes. The bottle house, the railroad depot, the modern metal artwork all provide quite a scene against a beautiful colored palette desert backdrop.
Here the Mining Union marches in the glory days, just before Teddy Roosevelt sent in union troops to break up the union for real.
And what she looked like by the 1930s: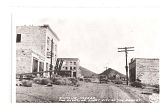 Alas, the Nevada National notes produced by the banks of these mining camps do not come cheap (minimum 2,000 +, for just a good/very good). I've run across Reno, Elko, Ely at coin shows, etc, but prefer to put my collecting money into the postcards, mining scripophily, ephemera and trade tokens.
Regarding national notes, the next book I plan to purchase is:
The Nevada "Sixteen" National Banks and Their Mining Camps. Melvin Owen Warns. 1974.
Here's another note that may have traded in town between the date of those two pictures, a $100 Gold Note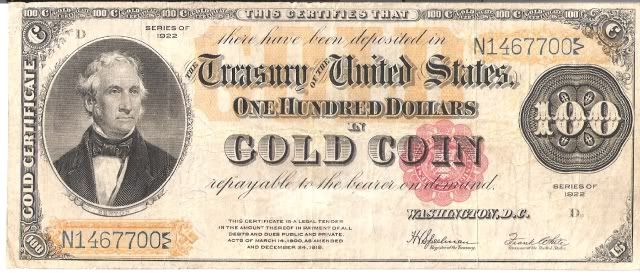 Tonopah District
From:
http://www.tonopahnevada.com/mining-park/
and the Tonopah Historic Mining Park Brochure:
Silver! Gold ! It's burned like a fever in the hearts of men and women everywhere.
The Tonopah Historic Mining Park is on the site of Belle and Jim Butler's original mining claim which started the rush to Tonopah making it the "Queen of the Silver Camps". This strike in 1900 brought the United States into the 20th century. Many mining and processing techniques developed here are still used in mining today.
In the spring of 1900, Jim Butler was camping around Tonopah springs. As the story goes, his burro wandered off, and while searching for it, Jim picked up some promising looking ore. He continued his journey, showing samples to others, but they showed little interest in them. He returned to his home in Belmont, Nevada and told a young attorney named Tasker Oddie about his discovery. Tasker had a friend who taught chemistry in Austin, who had the samples assayed and the ore proved to be valued at over $200 a ton (1900 dollars). At the behest of Jim's wife, Belle, they traveled again to the site of the original find and filed eight claims, removing several tons of ore. For a on quarter share, Wilse Brougher hauled the ore by horse and wagon to Austin then by rails to Salt Lake City for smelting. That first shipment netted the partners $500.00 which was used to buy equipment needed for further development. As venture capital was difficult to obtain, Jim Belle, and their partners implemented the unusual concept of mine claim leasing ;by the :foot:. These lease, which were sealed by a handshake, gave the lessor %75 of all profits from his claim and greatly speeded the development of the district. Many of the miners got rich under this arrangement. The practice quickly spread to other mining districts. The butlers eventually sold their interest in the properties to a Philadelphia financier, who formed the Tonopah Mining Co., with assets of over one million dollars. Tasker Oddie formed the Tonopah Belmont Development Co. and between these two companies produced over half of the previous metals from this mining district. History tells us that production form the mines form this district produced in excess of five million tons of ore. At today's market, the value of previous metals produced would be in excess of $1,200,000,000 and a few cents (and there were NO TAXES!).
Some folks got by, just barely, scraping together 6 and 1/4 cents for a loaf of bread at the Vienna Bakery.
THE COMSTOCK
Gold Hill
Gold Hills Perches on the hillsides just down the street from Virginia City
Gold Hill Hotel is a great place to look around and have a drink,
http://www.goldhillhotel.net/
The Gold Hill Hotel is supposedly haunted. I've only been there once, good vibes, a wedding of some great friends.
http://www.ghost-trackers.org/gold_hill.htm
Here is a shot from waaay back in the day. You can tell this is an early picture based on the tents, before the townspeople could erect all wooden buildings.
One of my favorite pictures! The author of the inscription on the bottom of the card states the picture was taken by his grandfather. The miners look prepped, primed and ready to hit the jackpot. What a rough existence, puts the weak folk today to shame; bitchin' and moanin' and holding their lotion-moistened hands out for a freebie, welfare check and mortgage payment.
Virginia City
Here is Virginia City on the steep decline of near abandonment, circa 1930:
Nevada Today
Nevada Press
Las-Vegas Review Journal
http://www.reviewjournal.com/
Elko Daily Free Press
http://www.elkodaily.com/
Reno Gazette-Journal
Nevada Appeal
Ely Times
RENO
History of building on West First street: Bill Simons and his Calvada Real Estate owned the building
Simons said the building has been in Reno for more than 100 years and has been in his family since the 1940s. It was once a machine shop that turned out slot machines, then the Simons family real estate office for 20 years followed by a stint as the Eldorado personnel office. Following that, Molly Malone's bar occupied the space for 15 years before the Blue Lamp's short run
Things To do in Reno
If the weather is nice you might consider just walking along Riverwalk. (First Street in downtown Reno along the Truckee). Park downtown (the Cal Neva parking garage at 1st and Center street is almost always free). Head down first street along the river from East to West. Truckee River is on your left hand side. Third Saturday each month during the Summer is the Reno Wine Walk, but I think that is over now. Two blocks south of First Street along Virginia St (the strip) is the Old Courthouse and the Pioneer Center for the arts, worth a look. The Pioneer actually has great acoustics and is a nice place for a show (I've seen JonLuc Ponty, Pat Metheny, etc.) there, sounds great. They might have a wine and art show also.
The downtown area had art galleries/lofts/exhibits, always if flux – of course. Reno has always been an artists haven and recently has really grown in stature. What had been a verdant underground scene is now attracting international artists big time, in part b.c. of Burning Man (basically a large outdoor interactive art exhibit). Also the light and color (especially in fall along the e. side of the sierra – a ala Ansel Adams) is good because of the elevation. The performing arts also thrives with a few theaters. The city has had a phiharmonic and opera for a while. Wilbur May's museum is actually pretty interesting 1595 N. Sierra at Rancho San Rafael Park. (775) 785-4319. Moreover, Reno also has some serious metal art/sculptors. 20 years ago there were a couple nice sculpting galleries, imagine the venues have changed. Reno has always hosted many world class metallurgists since Mackay school of Mines in one of the top 10 mining schools in the world. Unfortunately UNR is closed for Nv. Day. And while walking downtown, keep an eye out for property location markers. The entire city is actually a series of clouded real estate title (Stanford owns a number of parcels).
Besides the obvious (dinner and show) you might be interested in seeing the new Reno Aces Minor league field or the Bowling Hall of Fame. The Harrah automobile Collection is still really nice. [It used to be one of the top two or three auto museums in the world. Nevada is a big car collector state b.c. the cars don't rust. Hot August Nights is the world's largest car show [had peaked at 700,000 in 2004]. I had the pleasure of seeing the collection in the peak b.c. my good friend's father was Bill Harahh's chauffeur for 30 years. But, his son's weren't up to running the show so Harrah's went corporate in the 1990's and sold off some of the rarer cars. Still worth a peek (Now called National Automobile Museum, Harrah Collection). The Rodeo was last month, actually very entertaining and part of the national circuit.
Dinner: Well, Reno can't compete with San Francisco but it holds its own. As you know it depend on the night, but for Steak I would avoid Charlie Palmers at the Grand Sierra. Two places that are pretty solid are 1) Harrah's Steak House and2) Nugget Steak House (in sparks). The Nugget actually has a really good bowl of Cioppino too in the other restaurant. My family usually went to the Nugget for Sunday morning Buffet, but I imaging Atlantis has the best buffet now. More on steak: Harrah's has been consistently good for 40 years. John Asquaga gave Harrah a run for his money since John is good Basque and has his own ranch. Also, if you never ate Basque before that might worth a try. The Santa Fe (775) 323-1891 or Louis' (775) 323-7203 are worth checking out. Both are pretty eratic, Loius typically had the better food, but each could be closed or have a party so call first.
For Seafood/American try Rapscallions.
For Italian try La Strada in the Eldorado Hotel. The Eldorado hosts the Italian Food festival (last week). They used to have really good Italian food. But then they went in with Circus Circus and built the Silver Legacy and they had to cut corners. But, the owners have mended their ways and brought back a decent meal, so I hear – Good Italians (The Caranos. I used to live next door to a Carano. His daughter is now one of the premier Extreme Fighters in the world. I remember her learning to ride her bike!). Or, the Peppermill invested a lot of money last year in their new tower and I hear the Italian (Biscotti) is pretty good, but it is south town and traffic can get heavy. Harrah's Italian place (Andreatti) has a nice atmosphere, too. I always liked La Familglia Ristorante, 180 E. First or LuLou's (1470 S Virginia St, (775) 329-9979) – really good but usually crowded.
There is a really good German bakery: http://www.josefsvienna.com/
Can't recommend any Mexican, I used to go in a couple hole's in the wall but not sure if they were around. Miguel's used to be pretty good but then Miguel died, so I don't know [1415 S Virginia St. (775) 322-2722]. I imagine there are some Amazing Mexican restaurants but they would be in a sketchy part of town; a wrong turn you could get mugged.
Two good pizza places are JJs Pie company, downtown, on 5th street (can get crowded, college kids) and Nu Yalk Pizza (traffic gets bad).
The great vegetarian restaurant shut down b.c of divorce, do believe.
Reno has always good steak, Basque, Mexican and Italian but never had a great French restaurant. I would avoid any trying to be such.
Architecture. There are some funky and interesting buildings all over town. The rich mining magnates would build an edifice to themselves, or a whimsy fantasy, on what was the outskirts of town, at the time. Just driving around you can see some oddball places. Only places to avoid really are Wells avenue (both sides of I-80) and south of the airport.
Sporting Good Store. Reno now has two of the world's largest Sporting Good stores. Both worth a visit. Cabelas is located at Boom Town on the far west part of town (actually in Verdi) along I -80. Scheel's is the largest in the world and is far east part of town (actually in Sparks), along I-80 between Sparks and Vista exits.
More…
Not sure if you are there for a real long weekend, and I imagine you've done it a few times already but the drive between Reno and Mammoth along 395 is one of the nicest in the country IMO. I could give lots of details…
Also, Pyramid lake is rather interesting, some fascinating geology and scenery (but I recommend staying on the paved roads unless you know the way around, for various reasons).
Actually, the best parts of Nevada are way off road – but that is for another write-up.
Well, that should keep you busy for a little while...
Ward Charcoal Ovens State Historic Park
Willow Creek Basin was a major stopover for freighters that used this road to travel from Pioche, Nevada, to the railroad town Toano, Nv. (1870-1876). Silver ore was discovered in 1972 when freighters were looking for oxen that were grazing in the Willow Creek Basin Area. The horse and oxen freighters, known as 'Bullwackers', named after their sleeping cars ( not sure how one would get much quality sleep eye on these things ) would turn out their horse and oxen along the good grazing riparian area along willow creek. John Henry and William Ballinger discovered Ag in Ward gulch in 1872 and by 1876 Ward had two roasting furnaces to process ore. The six charcoal ovens were built in the mid 1870s to make charcoal to feed these roasting furnaces. Hewed by Italian masons, they measure and impressive 30 ft. by 27ft consumed 35 cords! Of wood to produce 30 bushels of charcoal at $600 per ton! Per batch, or 24c a bushel. Of course, charcoal was replaced by coke made from coal.
The Ward Mining District, located two miles north of the park developed and small mining continued for several years. In April 1875, the Martin and White Company from San Francisco invested money to extract silver ore, bought up several small claims and built smelters.
The beehive shaped ovens locally replace the older pit system of producing charcoal because the ovens were a more efficient way to reduce Pinyon Pine and Juniper into charcoal. The Ward Charcoal Ovens were operational from 1876 through 1879, the silver boom years of Ward mines. The ovens were eventually phased out completely due to the depleted ore deposits and shortage of available timber.
The Ward Charcoal Ovens served diverse purposes after their functions as charcoal ovens ended. They sheltered stockmen and prospectors during foul weather, and had a reputation as a hideout for stagecoach bandits. Today the ovens continue to represent a unique and fascinating chapter in Nevada mining history.
Information collected from:
RENO FINANCIAL HISTORY
Moritz Scheeline organized the Bank of Nevada in 1890. The bank prospered for many years. In 1907, after falling out with former associates, he formed the Scheeline Banking and Trust Company. The bank struck forth at a very difficult time, but was able to make it through the Panic of 1907 and following recession.
NEVADA DAY
The majority of the celebration is in Carson City (State Capital).
Hot air Balloons kick off @8am with Parade to follow.
Things to Do in Carson City
Visit the Carson City Mint Museum (free on Nevada Day), State, or Railroad Museums
http://nevadaday.visitcarsoncity.com/
I really like the mint tour, not too long but rather interesting, especially since the S.F. Mint has not been open for tours in quite a while now.
All three are rather interesting.
AND/OR:
- Get a draft at the Senator Bar across from the State Capitol
- Look at the Million Dollar collection of gold Nuggets in the foyer of the Nugget Casino (on the strip, downtown)
- Go visit Genoa (original Mormon Station) or Walley's Hot Springs, or Virginia City (the history of Virginia City [Comstock Lode] and San Francisco are very intertwined). All worth a trip.
- Trout fish the Carson River
Of course Tahoe is only 20 minutes up the hill.
Nevada Mining That Was:
"The Constitution of the United States to-day came to the rescue of Clarence Dunn Van Duzer, Representative in Congress from Nevada," wrote The New York Times in a front page story on March 4, 1907. Van Duzer, absent from his office for over a year, had returned to Washington, D.C. on his last day in office to sign a pay warrant for his mileage in the amount of $1,100. An attempt to forcibly arrest Van Duzer on the grounds of the U.S. Capitol was thwarted by a Capitol police officer who claimed that the U.S. Constitution prevented a member of Congress from being arrested. Van Duzer disappeared without collecting his money.
Van Duzer's political career skyrocketed after he was admitted to the State Bar in September 1898. Elected Humboldt County District Attorney the same year, he ran for the State Assembly in 1900 as a Democrat. Van Duzer easily won the race and was appointed Speaker. When his mentor Congressman Newlands ran for the U.S. Senate in 1902, the Silver-Democrats picked Van Duzer to run for Nevada's lone house seat. Now calling himself a native Nevadan, Van Duzer scored his third political victory in six years and returned to Washington, D.C.
Like his father before him who established the Van Duzer mining district in Elko County in 1869, son Clarence was obsessed with mining and getting rich. He had pursued a number of mining ventures while living in Winnemucca and Golconda and also published three magazines--The Nevada Magazine, Nevada Miner, and Mining and Industrial Review.
Source:
http://dmla.clan.lib.nv.us/docs/nsla/archives
; (May, 2006)